Back to Basics Dance Workshop
Learn all about the skill of dancing from the Celebrity Choreographer himself who trains Tiger Shroff, Hrithik Roshan and many more
---
Back to Basics Dance Workshop
Learn all about the skill of dancing from the Celebrity Choreographer himself who trains Tiger Shroff, Hrithik Roshan and many more.

Classes: Old school hip hop, C Walk, Breakdance, Choreography
Gratification: E-Certificate of Participation
 FTC Live Workshop starting 05.August.2020 Rs. 2,000/-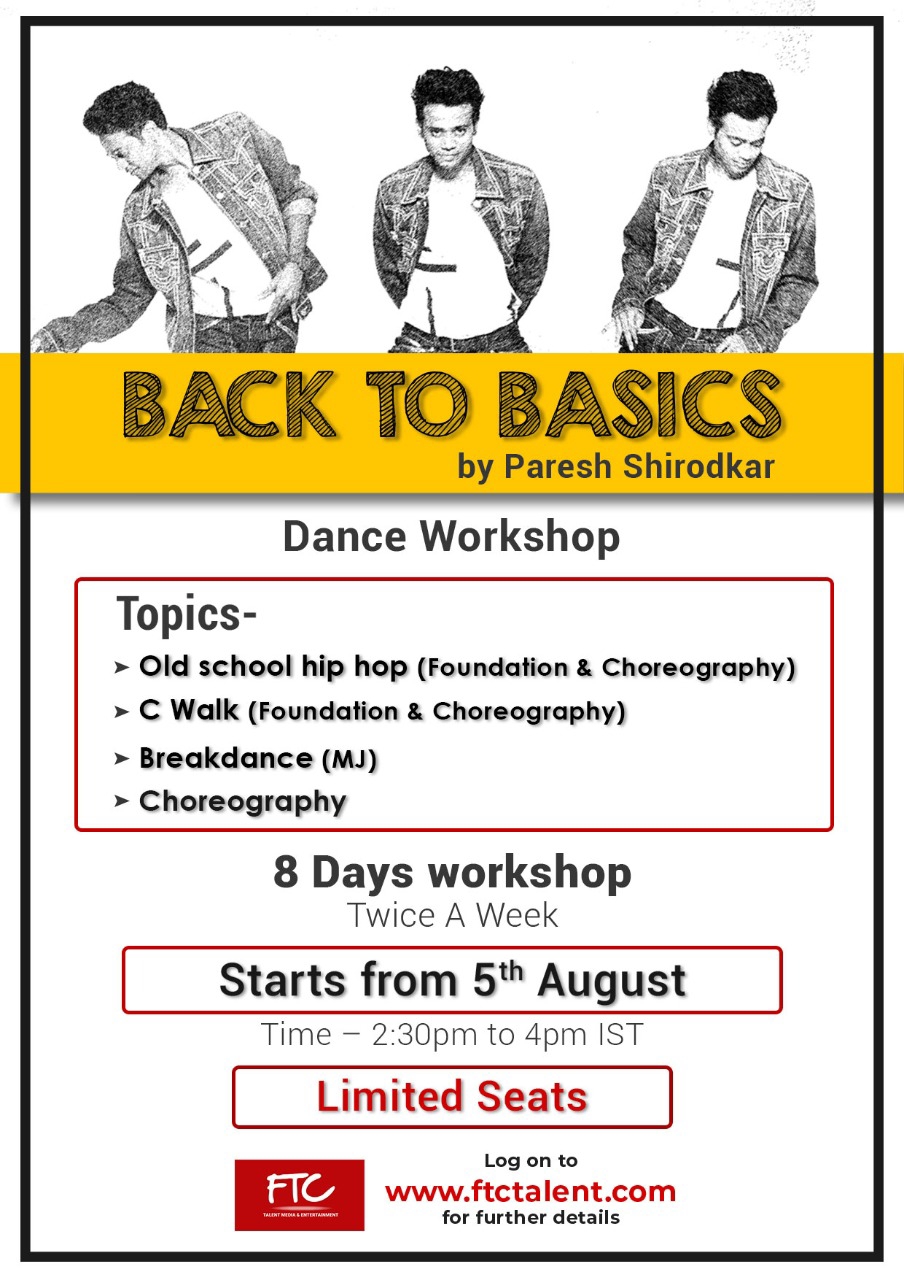 The workshop login details will be notified to the email address mentioned at the time of booking, 1 day prior to the workshop.
Terms & Conditions apply
Experts
A dance workshop by India's most talented choreographer and India's  Michael Jackson - Mr. Paresh Shirodkar. 
He is one of the choreographer,  who adored MJ and was a great follower.  He started his dancing when he was only 11 years old and practiced on seeing Michael Jackson on the internet. Dancing is his passion and has not only learnt the MJ style but all other western dance forms. 
He has created a dance syllabus which no other dance school has even created in the country and have neither followed any syllabus. Mr. Shirodkar has made the same by his experience, which covers all the dance forms  from basic to intermediate.
Paresh has already done plenty of dance workshops in different parts of the country and the response has been tremendous. India has many dance classes but it is yet to have a dance class with a proper routine and syllabus. 
He is a pioneer of teaching dance to celebrity and celeb kids and the list is a long one. It's started  from the dance icon Mr. Prabhu  Deva to the new heartthrob of bollywood - Sara Ali Khan.
The team has also been  part of some most popular songs in Bollywood - from ABCD to Munna Michael in Bollywood and Chaal Maar to Morrarka.
 FTC Live Workshop starting 05.August.2020 Rs. 2,000/-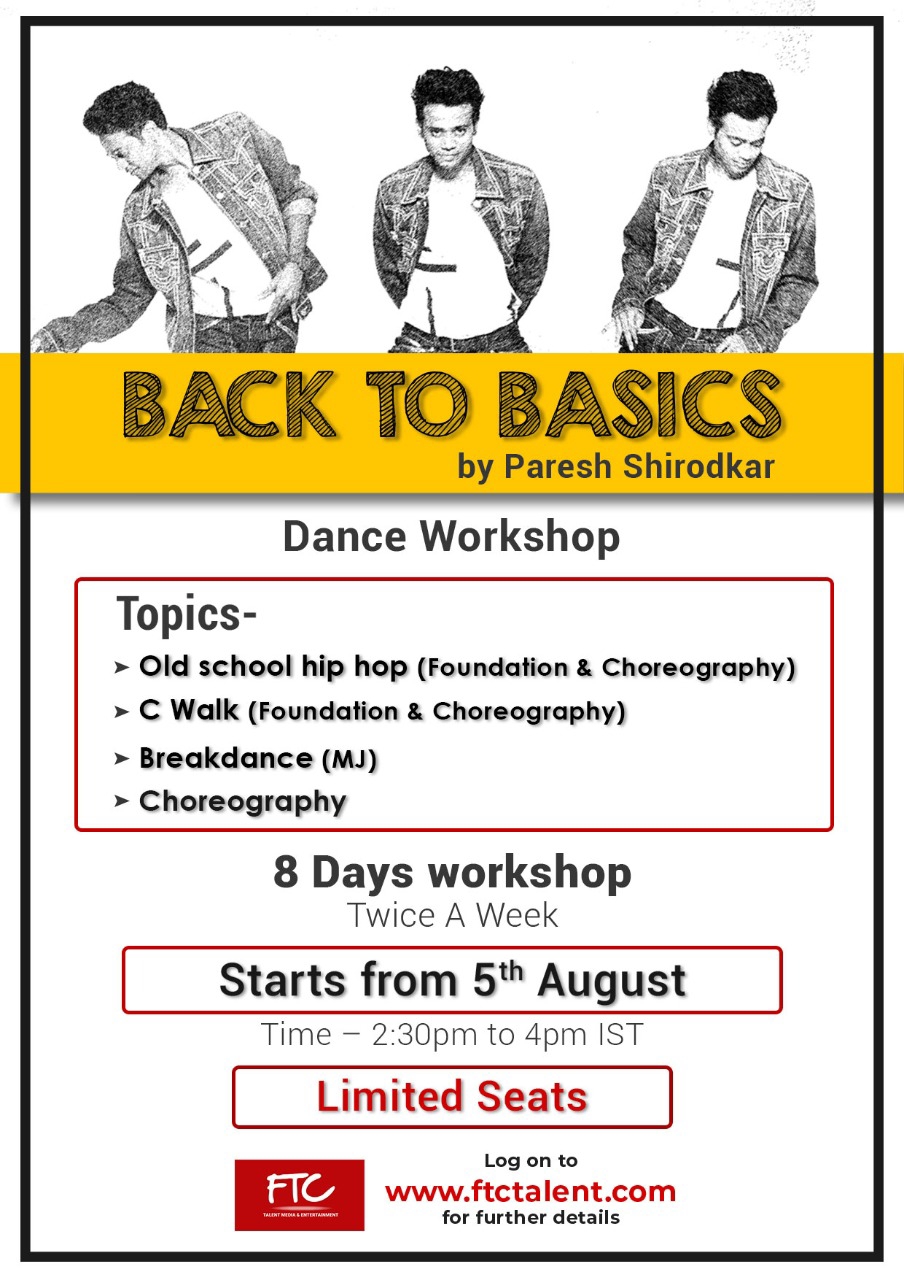 The workshop login details will be notified to the email address mentioned at the time of booking, 1 day prior to the workshop.
Terms & Conditions apply
Schedule
5th Aug - Old school hip hop (foundation)
7th Aug - Old school hip hop (Choreography)
12th Aug -  C Walk (foundation)
14th Aug - C walk (Choreography)
19th Aug - Breakdance ( MJ)
21th Aug - Breakdance  ( MJ)
26th Aug - Choreography (Intermediate level)
28th Aug - Choreography (Intermediate level)
(Choreography will be based on the styles and foundation covered in the above classes)
  FTC Live Workshop starting 05.August.2020 Rs. 2,000/-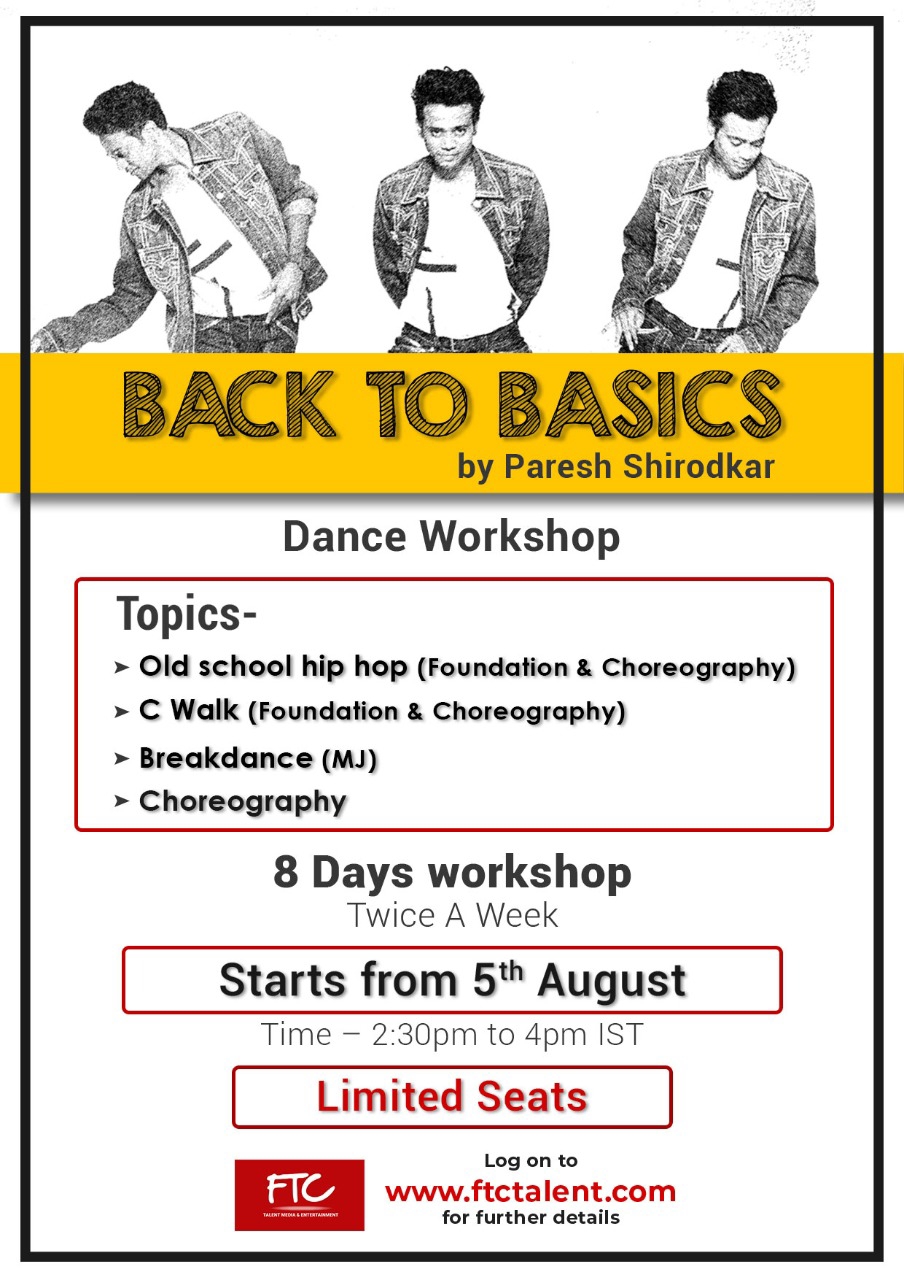 The workshop login details will be notified to the email address mentioned at the time of booking, 1 day prior to the workshop.
Terms & Conditions apply