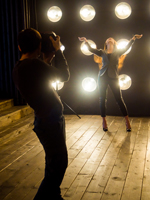 5 Must Dos For Every Model Prior To Any Shoot
November 24, 2017

|

FTC Advice

|
Every photographer at some point in his career has surely come across models with irregular skin tones, unwaxed body parts, chapped lips, non-moisturised hair and so on. And however human this may feel, one must realise that a model makes the common man aspire for perfection and glamour. It therefore becomes necessary for models to showcase their best exterior self. Also, the above men-tioned "problems" can definitely be fixed post the shoot but they are somewhat bothersome and time-consuming to correct. Why not make everyones life easier? Read on and absorb some tips you as a model should adopt before any significant shoot.
1. Flawless Skin:
Skin plays a huge role in the overall glamorous look of a model. Taking diligent care of your skin will reduce photoshop efforts post the shoot. Firstly, ensure you sleep for at least 8 hours the previ-ous night. Secondly, in case you are susceptible to acne or its timely eruptions, the dermatologist should be your best friend. The make-up artist should also be well aware of this problem so that skilled tactics are best used to give your skin a flawless finish. If the location of the shoot is under the dominance of the sun and heat, photographers should make sure their models thoroughly protect themselves from any kind of tanning. We don't want to be taken aback when we see the raw imag-es, do we?
2. Smooth Lips:
Correcting chapped lips post your shoot is definitely most annoying for the designers working with Photoshop. Very often than not, final photographs tend to look fake and excessively worked on if the original lips are anything but smooth. This calls for you models to drink excessive water, regu-larly use chap stick, exfoliate your lips thrice a week and refrain from smoking. You can pick from an array of chap stick brands and textures. Experiment a little and find your mate. Trust us, your bag cannot do without this necessity.
3. Let go of body hair:
You maybe hearing of body hair being a trend these days. But this definitely does not hold true for women. You must regularly get rid of excessive body hair with the help of waxing, threading, shav-ing or laser treatment. It is also important you do this two days before your shoot. Imagine a situa-tion where your skin has reacted to a change in location or a new make-up product. In such a case the skin will turn red and any kind of hair removal technique will need to be postponed. So antici-pate the smallest glitches and keep your skin free from hair. Eyebrows should also be worked on one to two days before the shoot. It is not as taxing as body hair to remove in post. However, the time your team will spend doing that in Photoshop could be better spent working on another project.
4. Rested Eyes:
They say, eyes are the windows to your soul. So whilst shooting why not make sure that your eyes look calm and relaxed? Sleep definitely plays a vital role here. Over and above sleep, stay away from substance abuse prior to your shoot day. It is a known fact that alcohol brightens up your eyes and makes the blood vessels stand out. Walking in drunk or hungover is just going to make your photographer, call it a day. If you are doing close up shots, mind you, your eyes need to effortlessly stand out and look great. Also, try and remove your lenses before the makeup artists start with their artistry.
5. No Fancy Clothing:
However silly this may sound but the clothes you wear whilst walking in for your shoot, is of sig-nificance too. Now you may ask, why? Well, if you have a swimsuit or lingerie shoot, you want your body looking flawless. Tight attire tend to leave beautiful marks on your skin. And if your shoot schedule is equally tight, you may have to work with those scars or postpone the shoot.
Models are not always well informed. Communication on a shoot is the key to driving success, without a doubt. However, communication has to start before the day of shooting. Speaking with models about the above mentioned five points will truly reflect on a photographer's professionalism. And if you are a well versed and well read model, why wait for these instructions from your photographers? Take charge!